Children of Promise Family Daycare

We have a structured day that provides enough flexibility to meet the individual needs of each child. I am certified in First Aid & CPR, and licensed by the Maryland Department of Education Office of Childcare. We provide QUALITY CARE and Dedication to helping Children reach their highest Potential in learning and preparing them for the future. We offer a nurturing, loving and a safe environment where the children could feel comfortable and at home. 

I truly believe that life is not about having all you want, but wanting all you have.

Children of Promise Family Daycare is operated right here in Upper Malboro, MD. Since our company opened in 2001, we've treated every customer like they were a part of our family. Other companies may offer similar services, but our services are the best, and come with a personal touch. We provide care for children six (6)weeks old to five (5) years old, or until they reach pre-school level and we also provide Drop-In, Before and After care for all school age children, to accommodate the working parents.

We are specialize in making sure that when the children leave our daycare that they are ready for Pre K. We assist with home work for all school age children and provide learning materials and games to challenge their young minds; this includes children's books and educational literature. By so doing allowing the parents to take care of any other business after their children are picked up from Daycare.

My name is Kharil, and I have been a licensed daycare provider for over ten years.

I truly love what I do! How many people can make a living by playing, dancing & singing all day long?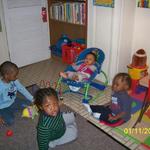 Children are taught compassion,  how to share, to respect others and to value all life.

 In my opinion, when a child is taught to love and respect God, it opens doors and pathways to their future.

Each child is treated with love and respect.

I believe that in this day and age, a strong foundation is the only way to have a child who will make a difference in our world.

For more information please: